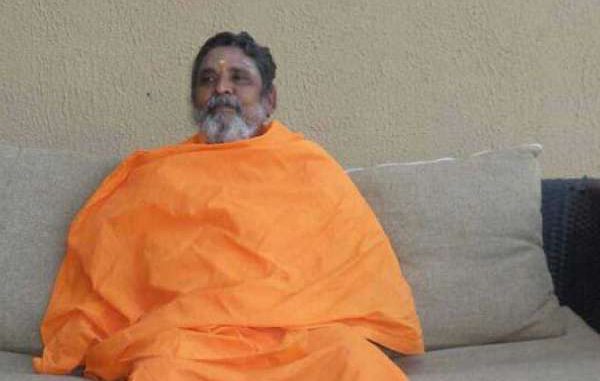 Swami Tattvabodhanandha, disciple of Pujya Sri Swami Dayananda Saraswati was brutally murdered in his apartment in Puducherry on the late hours of 28th August 2019. Swamiji did his Vedanta course between 1990 and 1994 in Arsha Vidya Gurukulam, Anaikatti, Coimbatore. Swami Tattvabodhananda was given sanyas by Pujya Sri Swami Dayananda Saraswati on Feb 4, 1999.
Brutal Murder
According to the Tamil Daily Maalaimalar, Swamiji lived in the Gokulam Apartments in Mottathoppu Annamalai Nagar, in Puducherry. The 5-storey apartment has 13 houses. In this, Swami Tattvabodhananda (60 years old) lived alone in a house in the ground floor apartment. Arumugam was working as a guard in the apartment. On 28th August night, five miscreants from the area came to the apartment. They attacked the guard and threatened him to run away. Frightened guard, ran away from doing his duty.
The miscreants then sat in the parking lot and had a drink. The security guard Arumugam, who had gone out, returned there at about 3 AM and continued his work.

It is usual for Swami Tattvabodhananda to get up early every morning. But he did not get up until 10 AM on 29th August 2019. And the milk packet that was brought to him was left untouched. So, the suspicious guard, Arumugam, knocked the door. The door was not opened.

Korimedu police were informed about this. Inspector Kannan, Sub-Inspectors Kalaiarasan and Thirumurugan rushed the spot. The door was locked. They broke it and went inside. Swami Tattvabodhananda was found murdered between the two rooms of his house. He had cut injuries on his head and body.

It is believed that the drunken rowdies might have entered Swamiji's house and killed him and left the house.

Arrest
As reported by the Tamil News Channel, Thanthi TV, Korimedu police arrested Vicky and Siva from the same area. Both men seen to have been smoking drug regularly in front of their residence. Swami Tattvabodhananda, who had been denouncing this, also informed the police about this. Police obtained confessions from Siva and Vicky and seized their blood-stained clothes.

Murder Left Unspoken
However, the reports about this brutal murder occupied some space in the few local dailies, the Tamil Mainstream media and the National media conveniently ignored this. While today's media covers and debates a lot about murders, hate crimes and suicides, this particular news left uncovered raises the eyebrow. Tamil media, in particular, is known for voicing a lot about murders, suicides and traffic killings. But the brutal murder of Swami Tattvabodhanandha was kept under the hat.
Neither a politician nor an activist
Swami Tattvabodhanandha was a Vedic Guru and a Spiritual speaker. But he was neither a politician nor an activist. He neither seen to have had any political connects nor was being vocal of any social or political issues. By being a conscious person, Swamiji was just denouncing the usage of drugs by miscreants in his area. While the doubt arises whether was it the only reason for his murder, the media's absolute silence over this murder strengthens the doubt.
Do Sanyasis have no right to live?
As the progressive nation, India has the extreme level of freedom of expression. But this freedom of expression is seen to be intellectually influenced by a specific sect of people who always propagates the myth that only one community is powerful in India. But the truth is other way around. Having captured all the voices that is supposed to voice for the living of every human being, the ecosystem conveniently ignores this kind of murders. The ecosystem here refers to the institutions that range from Media to Judiciary. A humble and innocent Sanyasi who lived a very simple life in his apartment has taught and guided many people throughout his life time. He was sharing knowledge to common people for their better and happy living. But he was brutally murdered and the entire society is Silent! What is so much wrong if someone lives as a Socially conscious Sanyasi? Do Sanyasis have no right to live in India?