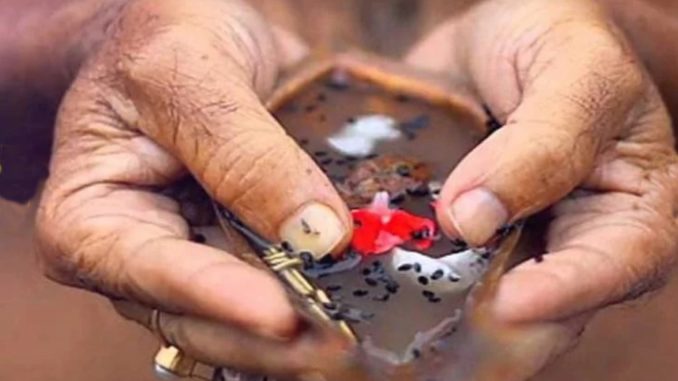 Pitru Paksha is going to start from 14, September 2019. In these 15days, one is supposed to offer Sraddha to forefathers. Especially those souls who are wandering will be elevated by this shraddha.
Ashwin Krishna Paksha is called Shraddha Paksha or Pitrupaksha. During this time, according to the death dates of the persons who are died, their shradh is done for their betterment of life.
There are two types of shraadha. Parvana Shraddha and Ekodistha Shraddha. The Shraadh performed in the Pitrupaksha of Ashwin Krishna is called Parvana Shraddha. Ekodistha Shraddh is always performed on the tithi of death that too in the noon. Whereas, the Shraddha of Pitrupaksha is a great festival to pay homage to the ancestors. Whatever is done with reverence is called Shraddha. The time from Ashwin Krishna Paksha Pratipada to Amavasya is called Shraddha paksha The Dharma Shastra says that the householder who offers pinda (rice balls) to the ancestors is going to get longevity and fame. All kind of prosperity and good fortune is attained by the grace of fathers. In Pitripaksha, fathers are hopeful that our son will make us satisfied by offering sraddha. This is why the ancestors come down from the ancestral land to this earth.
Shraddha of Pratipada
Those who died on Pratipada's death date, then Shraddh is performed in the afternoon at Ashwini Krishna Paksha Pratipada. So also who is died on Dvitiya, then Shraddha is to be performed on dvitiya day and so on.
Vaishnava Sadhus Shraddha
The Shraddha of the Vaishnava Sadhus and other renunciates (except Sankara Dasa Nami Sanyyasis) is performed in Dwadashi by the method of Parvana. No matter what the date of his death is.
Shraddha for premature death
The person who has died due to vehicle accident, snake bite, venom consumption, premature death, Shraddha should be performed on Chaturdashi Tithi. Those who die on Chaturdashi tithi should not perform Shradha on Chaturdashi. It should be performed on Trayodashi or Amavasya. Those who do not know the date of one's death should perform Shraadh on the new moon day.
Shraadha of Bhadra Shukla Poornima
If a person dies on the full moon day, for them, Sraddha is to be performed on Bhadra Shukla Purnima.
The special importance of Panchavali
After performing Shraddha, Panchavali (five morsels of rice to be offered to different living beings which includes Cow, dog, ants, crow and human being) is to be offered. Without Panchavali, Sraddha is not complete.