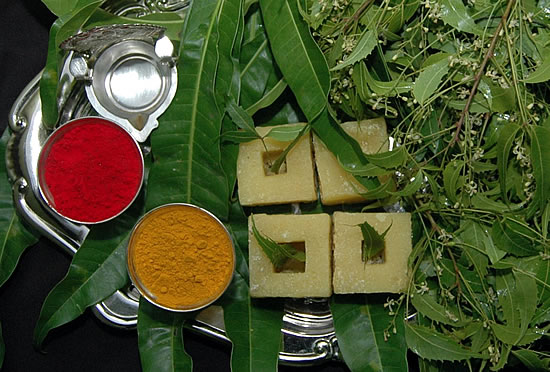 What is Ugadhi?
Ugadhi is a sanskrit which contains two words. 'Yuga' and 'Adhi'. Yuga means an 'Era', Adhi means 'Beginning'. So, Ugadhi means the beginning of a year. According to Hindu Lunar calendar, the first day of  'Chaitra' month is celebrated as Ugadhi which would usually fall in the month of  March-April.
Why do we celebrate Ugadhi?
Ugadhi is considered as the beginning of a new year, new month and a new day. It is believed that Lord Brahma created this universe on this day. It also marks the end of shivering Winter and the beginning of Spring. Plants start their new life, flowers starts budding, rejoicing the beginning of Spring.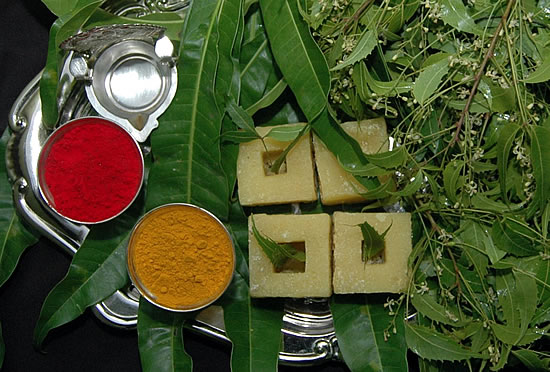 How to celebrate?
One has to wake up early on the Ugadhi day and take oil bath.
Thoroughly clean the entire house.
Decorate the entrance of the house with fresh Mango leaves.
Wear new clothes and perform usual Pooja.
Offer Sweets and Neem leaves to the God as Neivaidyam.
Consume the offered Neem leaves and the Sweets as Prasada.
Visit a near by temple with the family.
The inner significance of Neem leaves and Sweets is to indicate that life is a mixture of good and bad, joy and sorrow, success and disappointment, and all of them have to be accepted as God's Prasada.
Ugadhi is observed in southern part of India like Andhra and Karnataka. 'Gudi Padhwa' is celebrated by Marathas on same day and 'Cheti Chand' is celebrated by Sindhis.
On 8th of  April 2016, Ugadhi is celebrated which is the beginning of  'Sri Dhurmuki Nama Samvastara'