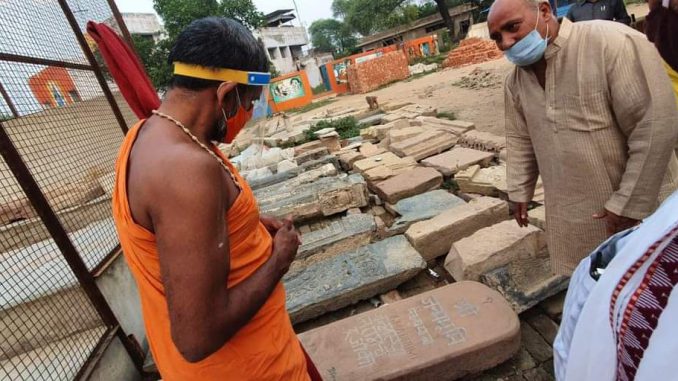 Sri Rama Janmabhoomi Theertha Kshetra trust is a trust set up for the construction and management of Sri Ram mandhir in Ayodhya. The trust has decided to conduct a campaign for the construction of the Ram Temple for 45 days, starting from January 15, 2021. The trust informed that campaign would be on an all-India level.
On Sunday, November 1, trustees met at the Guest House in Ayodhya. Representatives of L&T, which has been selected to carry out the construction work, and Tata Consultancy Services, which supervises the construction, participated at the meet.
Shri Govinda Devagiri Swamiji, Shri Viswaprasanna Theertha Swamiji of Pejawar mutt, Nirupendra Misra, Sampath Ro Dinesh Chandra, Dr. Anil Misra and Raja Vimalendra Misra were also present. Everyone participated in the Ram Lalla Puja performed between 6 PM and 7 PM.
Shri Viswaprasanna Theertha Swamiji of the Pejawar mutt inspected the construction site of Ayodhya Ram Temple. "It's a great matter of pride for all of us, that Sri Swamiji is one among the trustees of Sri Rama Janmabhoomi Tirtha Kshetra trust! Ram Lalla, who lived in tent for decades will have a grand temple sooner!," Karnataka MP Shoba tweeted.
It is noteworthy that Sri Vishweshvara Theertha Swamiji, the guru of Sri Visvaprasanna Theertha Swamiji and the former pontiff of the Pejawar mutt, took lot of efforts in the Rama Janma Bhumi movement.