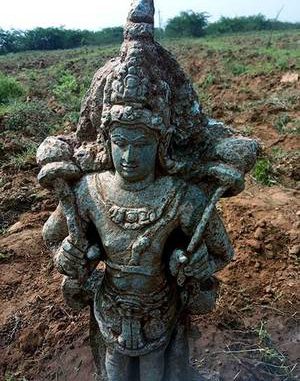 An ancient 10th century idol of Lord Surya Narayana was found last Friday at a farm in Andhra Pradesh. Farmer Vannurappa's land is located at Kalagodu village in Kummakatta zone of Andhra Pradesh's Anantapur district. His son discovered this idol while digging the farming land. He immediately informed Heritage Association Secretary, K Gudekota Siva Kumar.
After he inspected and cleaned the idol, he sent photographs of it to the Chief Executive Officer of the Vijayawada and Amravati Cultural Center, Historian Emani Siva Nagireddy. The historian, who knew the sculptural style of the idol, confirmed that it belonged to the time of the Nolamba kings who ruled the region (Karnataka and Andhra Pradesh) for more than 300 years.
The idol is said to be similar to some other sculptures found in the region. According to The Hindu, locals said that some more such similar sculptures may be found nearby.
The discovery was immediately reported to local police and revenue officials. The idol will be preserved in the Archaeological Museum at Anantapur as per the recommendation of Siva Nagireddy. It is said that the priest of the nearby Rajarajeswari Temple performed puja for this idol.