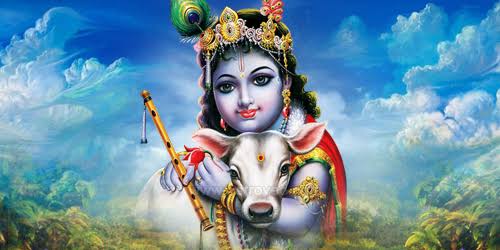 What is Krishna Janmashtami?
Krishna Janmashtami , also known as 'Krishnashtami', 'Gokul Ashtami' or sometimes merely as 'Janmashtami', is one of the greatest and most sacred Hindu festivals that commemorates the birth of Lord Krishna. Lord Krishna appeared in his human form in Dwapara yuga, on the midnight of Ashtami (8th day) of Krishna Paksha of the month of Sravana. Lord Krishna was born as the eighth child of Devaki and Vasudeva. Lord Krishna is the eighth avatar of Lord Vishnu.
What to do?
Observe fasting for the whole day.  Keep chanting Lord Krishna's Slokas, Vishnu Sahasranama, etc. The time to perform Krishna Puja is during Nishita Kala which is the midnight. Decorate the house with Rangoli, flowers and draw the small feet of lord Krishna in your house (from entrance to the pooja room). Perform usual pooja by offering coconut, flowers and fruits and especially butter to lord Krishna.
While giving the Arghya, hold a coin, a lemon and dried date in your right hand, and using a silver spoon offer 3 times milk and 3 times water to Lord krishna in a silver bowl.  Everyone in the household has to give Arghya to the Lord.
Visit a nearby Vishnu temple.
The next day morning break the fast by taking sweet and fried food items.