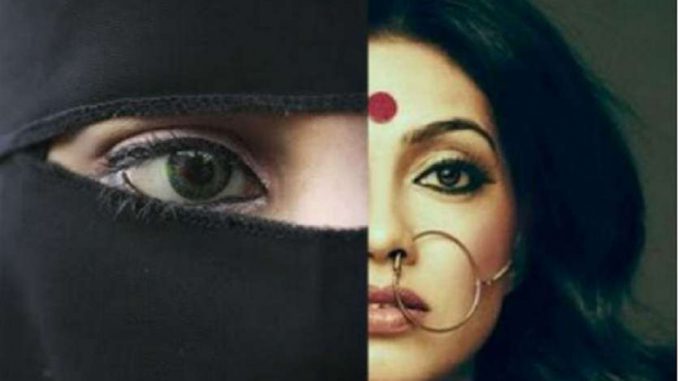 It was in 1985, the legendary Tamil film director K. Balachander's movie 'Kalyana Agadigal' carried sensitive dialogues about the inter-religious love marriage. The story goes where a Hindu girl falls in love with a Christian boy. When she was asked forcefully to get converted to Christianity to him, the girl decided to stay as Hindu rejecting the marriage. When she was questioned by her friends, "Is religion more important than the love?", the lead actress replied, "When he forced me to convert to his religion to marry me, that moment I realized that religion is important than love". She further said this dialogue, "I am a born Hindu, I live as Hindu and I will die as Hindu".
But for the past few decades, the South Indian film industry has been releasing many movies to spread the thought – 'Love does not have religion'. The present generation of India is grown up by watching these movies on big screens where inter-religious love marriages are highly romanticised. It has become a common thinking among today's youngsters that there is nothing wrong to give up their religion for the sake of love. Very few sensible among the today's youth has this question "Why should I get converted to marry someone whom I love?". Majority of the young community of South India, today are being driven by the 'thoughts invested by movies'. Today we have reached this stage where there are enough evidences to say that there is a modus operandi to trap the girls of other religions in the name of 'love' to become the victim of forced religious conversions.
Love Jihad
In the last decade, inter-religious marriages happened in Kerala has raised the eye-brow of many religious leaders. The reason being that most of the inter-religious marriages has resulted in religious conversions where girls are being converted to one particular religion. The terminology 'Love Jihad' is surfaced in social media and in main stream media for almost 10 years now. Muslim men target women belonging to non-Muslim religions for conversion to Islam by feigning love is popularly termed as 'Love Jihad'. The Vishva Hindu Parishad (VHP) has demanded that the Central government put in place a 'stringent' law to prevent 'Love Jihad' .
Christian girls are killed in the name of 'Love Jihad' : Syro – Malabar Church
In January 2020, forum of Catholic Bishops in Kerala has termed "Love Jihad is real and Christian girls are killed in the name of 'Love Jihad'". The Syro-Malabar Church's statement in January 2020, said, "Out of the 21 people recruited to IS from Kerala, a couple of years back, almost half were converted from the Christian community. "It is a reality that 'Love Jihad' is happening in Kerala in a planned manner targeting Christian girls. Christian girls are killed in the name of Love Jihad", said the statement. VHP welcomed the Church's statement and called for a united fight against 'Love Jihad' in Kerala Society.
Akhila converted as Hadiya in the name of 'Love'
The reality of 'Love Jihad' model came into light when Akhila, a Hindu girl from Kerala converted to Islam to marry the Muslim Man whom she met through a matrimonial site. At the end of 2016, Akhila Ashokan, married a Muslim man. By then, she had become Hadiya. In May 2017, It was Mr Ashokan's petition that led to the Kerala High Court dissolving Akhila's marriage and ordering her to return to live with her parents. Her husband later appealed against that verdict in the Supreme Court, which in August 2017, said the marriage would be proved by the National Investigation Agency (NIA) . Later in September 2017, NIA said it was scrutinising over 30 cases in Kerala where Hindu women were allegedly lured, forced to convert to Islam and marry Muslim men. NIA had mentioned that the story of two Hindu Women, Akhila and Athira Nambiar are the same. In both the cases of alleged forced conversions, the NIA named a woman named Sainaba, an activist of the Social Democratic Party of India, the political arm of the Popular Front of India (PFI). Later NIA had investigated 11 such cases including that of Hadia, among 89 other inter-caste marriages in Kerala and found no basis for the allegations.
Statement of Two Kerala Hindu women
In 2017, then a 22-year-old woman in Palakkad said in her affidavit given to a Kerala court said that Sathya Sarani organisation involved in her conversion in May 2016. The organisation runs a residential programme for new converts to help them better understand Islam. She wrote that while she was curious about Islam as a young student, it was her employer that introduced her to Sathya Sarani. "As per the advice of people of Sathyasarani, the date on which I should leave home for converting to Islam was decided. I was told that if I marry, I can escape from court proceedings (filed by parents, for example) fast. But I told that I did not want to marry", the woman went on to narrate a court showdown with her parents and how Sathya Sarani coached her against her parents' gimmicks. The court however, ordered her to move into a state administered hostel and eight months later, she returned to Hinduism at which time the High Court "itself withdrew surveillance". Later she said, "Now I am a believer in Hinduism.", said the Hindu Women in a statement to a Kerala Court.
In 2017, another woman victim of 'Love Jihad' gave a statement . Then the 27-year old woman with a Master's degree who converted to Islam in 2013. She said, a centre in Ponnani in the north central part of Kerala facilitated her conversion. She was quoted as witness about the organized conversions involving huge financial stage and human trafficking. "Girls convert to Islam feigning love with intention to marry," she said.

Christians being made targets for Islamic radicals
In 2019, Mohammed Jasim, a 19-year-old student of a Kerala polytechnic institute was arrested for allegedly raping his 18-year-old classmate and compelling her to convert to Islam. Kozhikode police arrested the accused under the charges of rape, extortion and criminal intimidation, as well as deliberate and malicious acts intended to outrage religious sentiments by insulting a religion or its beliefs. According to the girl, who was involved in a two-year relationship with the accused, he had compelled her to convert if she wanted to marry. The girl is a Christian.
George Kurian, Vice Chairman of National Commission for Minorities (NCM), wrote to Union Home Minister Amit Shah after receiving two complaints about "Christians being made soft targets for Islamic radicals".
In the letter dated September 23 2019, George Kurian wrote: "The spate of organised religious conversions and using the victims for terror activities by trapping them through 'love jihad' has shown that the Christian community is a soft target for Islamic radicals" .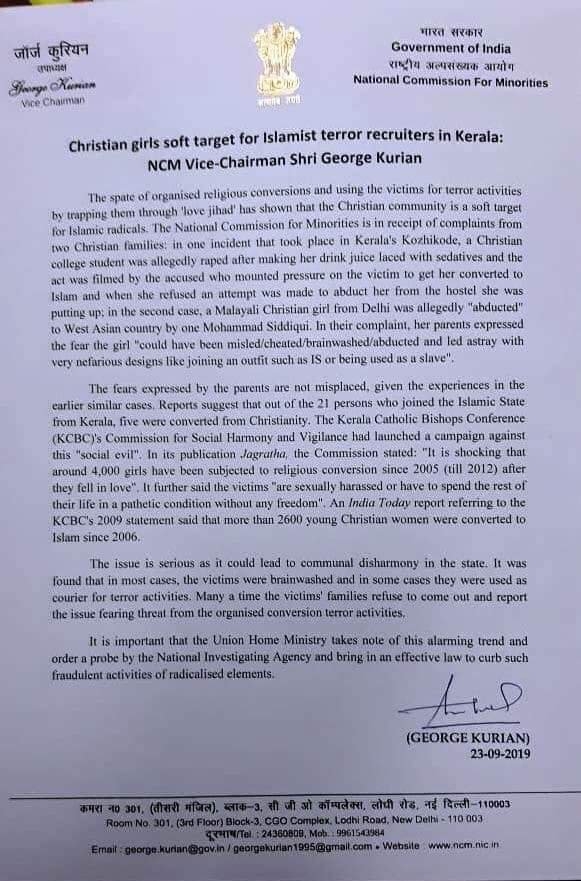 "The National Commission for Minorities is in receipt of complaints from two Christian families. In one incident that took place in Kerala's Kozhikode, a Christian college student was allegedly raped after making her drink juice laced with sedatives," his letter said. He urged the home minister to order a NIA probe in the matter and implement effective law against the spate of religious conversions and use of victims for terror activities by Islamic radicals. He also cited the case of a 19-year-old Christian girl who was allegedly forced to convert to Islam after being blackmailed and sexually abused. The accused allegedly filmed the act and then used the recording to force the victim to convert to Islam. Police alleged that when the victim resisted the "attempt to convert", she was abducted from the hostel.
Highlighting the second case, Kurian said a girl from Delhi was allegedly "allured and abducted" to a West Asian country. Kurian said the girl's parents complained that the girl "could have been misled/cheated/brainwashed/abducted and led astray".
He added that the crime was committed with "very nefarious designs like joining an outfit such as Islamic State (IS) or being used as a slave."
Tata Tanishq advertisement
Whilst various religious leaders including National Commission for Minorities has been voicing against 'Love Jihad', an advertisement by Tata Tanishq has allegedly supported the 'Love Jihad'. The ad released on October 9, 2020 shows a pregnant Hindu woman walking with her Muslim mother-in-law. The Muslim mother-in-law then leads the Hindu daughter-in-law to the garden area, where the god-bharai ceremony has been set up according to Hindu traditions. The smiling mother-in-law tells the daughter-in-law that this might not be their custom, but making daughters happy is a universal tradition. The advertisement sparked massive outrage on social media websites, with more than 17,000 users tweeting with the hashtag '#Boycott Tanishq, calling for the boycott of the jewellery brand for promoting the concept of 'love jihad' and hurting the sentiments of Hindus. Titan, which owns the brand Tanishq, saw its share price fall 2.58 percent the day after #BoycottTanishq had trended on social media.
Finally, the company had to withdraw the film citing hurt sentiments and the well-being of its staff. But they never bothered to apologize to the hurt Hindu community.
VHP says '170 Love Jihad cases in last 8 to 10 years'
VHP has demanded that the Central government put in place a "stringent" law to prevent "love jihad". VHP's joint General Secretary, Surendra Jain, claimed that there had been an increase in cases of love jihad. The VHP leader claimed that chief ministers of a number of states have been expressing their concerns in this regard. "The VHP demands that the central and the state governments, realising the monstrousness and magnitude of the love-jihad conspiracy, enact strong laws to stop it!," he added. "At the same time, VHP also appeals to the society to remain ever-more vigilant about such incidents and take constitutional measures to prevent them."
VHP has released a list of 170 love-jihad cases that allegedly took place during the last 8-10 years. "From Kerala to Jammu and Kashmir and Ladakh, there is widespread and overactive a network of love-jihad conspiracy to trap unsuspecting non-Muslim girl. "After being locked in the jihadi trap, these girls are not only forced to convert to Islam but also forced to live hellish lives. When these inhuman tortures become too much horrendous, then these girls find no way out but to commit suicide, but a very few girls get the opportunity to lodge complaints with the police. " Jain alleged.