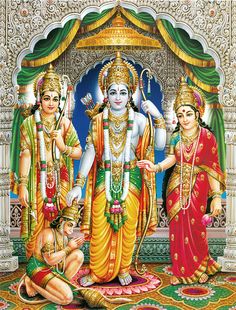 What is Sri Rama Navami ?
Sri Rama Navami is celebrated as the birthday of Lord Rama. Lord Rama was born on the ninth day (Navami) in the Hindu month of Chaitra . The ideal life of Rama, who was an avatar of Lord Vishnu, is the reason to celebrate Sri Rama Navami. The story of Rama's life is described in the Ramayana.
Why do we celebrate Sri Rama Navami ?
Lord Rama is the seventh incarnation of Lord Vishnu in the treta yuga. Lord Vishnu incarnated as Lord Rama to destroy the invincible demon king, Ravana who created immense trouble to the people on the earth and heaven. The birth of Lord Rama gave great joy to the people who grieved for a long time for a heir to their kingdom. There was joy and happiness all over the kingdom over the birth of Lord Rama.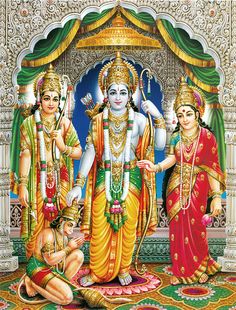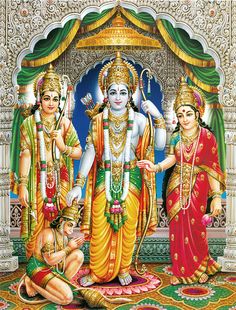 History behind Lord Rama's birth :
Dasarathta was a great king of Ayodhya. It was the capital of Kosal situated on the banks of river Sarayu. Ayodhya was prosperous under King Dasaratha.He had three wives, Kausalya, Kaikeyi and Sumithra. Even with his marriages, he was not blessed with a child that caused him great suffering.
At the counsel given by his preceptor, Sage Vasishta, he decided to conduct a fire yagna called Puthra Kamesti Yagna to have the boon of a child. Soon with the help of Maharishi Rushya Shrunga, he performed the yagna in his ashram.
While performing the ritual, a divine resplendent being emerged from the fires and offered a bowl of sweet kheer to King Dasaratha and asked him to offer it to his wives. The wives after consuming the kheer conceived and gave birth to babies. Queen Kausalya gave birth to Lord Rama on the ninth day of Chaithra month at noon, Kaikeyi gave birth to Bharat, Sumithra gave birth to twins, Lakshman and Shatrughna.
How to celebrate Sri Rama Navami ?
Decorate the entrance of the house with fresh mango leaves.
Clean the entire house and decorate the Pooja room.
Perform Sri Ramachandra Moorthy Pooja by the mid of the day (Around 12 PM) as it is believed that Lord Rama was born on mid of the day and offer sweets as Neiveidyam.
Chant Sri Rama Nama stotram and read Ramayana.
Visit a near by Ram temple with your family.