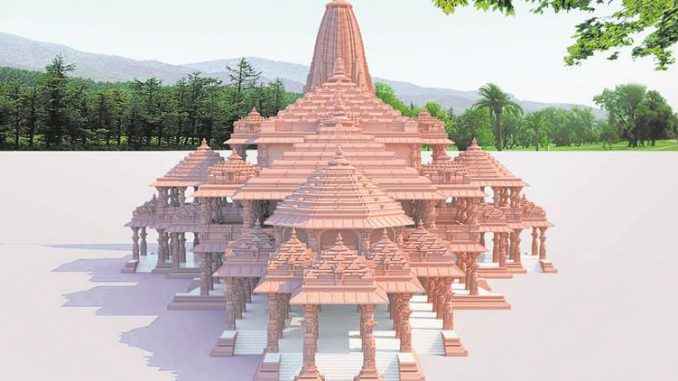 Ayodhya Bhumi Puja
On August 5, 2020, the 'bhoomi pujan' ceremony of Ayodhya Sri Ram Mandhir commenced at 12:10 PM and the foundation stone-laying ceremony concluded at the muhuratam time of 12:44:08 PM. A silver brick weighing 22.6 kilograms was placed in the foundation of the temple. Besides PM Modi, Uttar Pradesh Governor Anandiben Patel, Chief Minister Yogi Adityanath and RSS Chief Mohan Bhagwat graced the bhoomi pujan ceremony in Ayodhya.
Donation Drive
The Shri Ram Janmbhoomi Teertha Kshetra announced the donation drive, which began on January 15, will conclude on February 27. While speaking to media, Trust treasurer Swami Govind Dev Giri had said, "For the construction of the grand Ram Mandir in Ayodhya, the whole nation is donating funds. We aim to reach 4 lakh villages and 11 crore families across the country during our donation drive." The Shri Ram Janmbhoomi Teertha Kshetra came up with donation coupons of Rs 10, 100 and 1,000. Under this campaign, Rashtriya Swayamsevak Sangh (RSS) has decided to reach out to nearly 55 crore people (11 crore families) in 5 lakh villages through 4 lakh volunteers.
People from many sects are generously donating for the construction of Ayodhya Sri Ram Mandhir and it is turning out to be a biggest spiritual movement in India. When volunteers are doing door-door campaign for fund collection, many people are also donating through Online.
Till February 12, Rs 1,511-crore was collected for Ram Temple construction in Ayodhya, told Swami Govind Dev Giri, Treasurer of Shri Ram Janmabhoomi Teertha Kshetra.
Muslim Businessman
In a motive to develop communal harmony, a Muslim businessman from Chennai has donated ₹1 lakh towards the construction of the Ram Temple at Ayodhya. This has awe-struck the people of different communities as the state is often seen in spreading Anti-Hindu sentiments as various news channels reports.
W S Habib, a businessman from Chennai gifted a cheque for ₹ 1,00,008, taking the fund raisers by surprise, reports Indian Express. When the members of the Hindu Munnani (A Hindu front in Tamilnadu), accompanied by the volunteers from the SRJTK approached him, W S Habib handed over the cheque. "I want to foster communal amity between Muslims and Hindus. We are all children of god. I donated the sum with this belief. I wouldn't have donated to any other temple but the Ram temple is different as decades-old Ayodhya dispute came to an end", Habib told PTI.
Muslim Author
Pakistani-Canadian journalist and author Tarek Fatah on Sunday donated Rs 1000 to the Ram Janmabhoomi Teerth Kshetra for the grand Ram temple in Ayodhya. While he took Twitter to share this information, he also urged all Indian Muslims to also donate to foster goodwill and trust with India's Hindu majority.