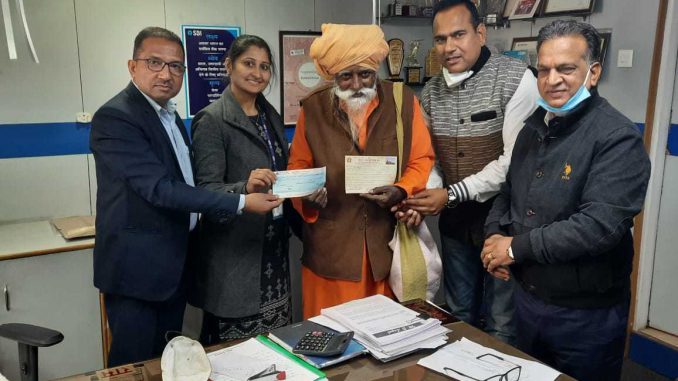 The world's biggest campaign for the construction of the Bhavya Ram Mandir at Ayodhya, began on January 14, 2021 and ended on February 27, 2021, unified Bharatvarsh from east to west and north to south.
Swami Shankar Das, a 83 year old sadhu who lives in caves in Rishikesh for over six decades has donated ₹1 Crore for the construction of Ayodhya Ram Mandir.
According to the sadhu, it was at the cave of his guru Taat wale Baba that he received donations from devotees that added up to the amount that he donated, reports Times of India.
While talking to the media, Swami Shankar Das told "I've been living in the cave for over half a century. As a seer, I live on donations from the devotees visiting the cave. When I came to know about the VHP campaign, I decided to donate the amount for Ram Mandir for which we all have been dreaming for long"
Reportedly, the bank officials were surprised when the sadhu offered the cheque for ₹1 Crore and checked his account. Surprisingly, sadhu's account had the requisite balance. The officials then contacted the local RSS functionaries who reached the bank and helped the sadhu to donate the amount in the Ram Mandir Trust.
Randeep Pokhriya, in-charge of VHP's Ram Mandir donation campaign in Uttarakhand, appreciated sadhu's act. While talking to Hindustan Times he said, "More than collecting donations, the motive of the campaign is to generate a feeling of harmony and service among the Ram Bhakts like the sadhu."
"We have so far collected donations worth about ₹5 crore which is three times the target we had in mind. However, it is not about the amount collected but the number of people coming forward through their devotion for Lord Ram to help in building his temple in Ayodhya," said Pokhriya.
The donation campaign for Ayodhya's Ram mandir construction has been concluded. The authorities associated with the drive told media that nearly ₹2,000 crore have been collected from across the country and world